The Clash Take the Fifth Tour
Supported by The Undertones

updated 13 Feb 2012 - added 4 photos
updated Dec 2014 - added poster



Audio 1 -
slight distortion - Sound 3 - 69min - unknown gen - 20 tracks - very distant
London Calling

A reasonable audience recording
A reasonable audience recording circulates of the gig spoilt by some slight over amplification/distortion. There's a good degree of clarity, it's not too many generations down from the master, but vocals and guitar are distant. Drums come over best but bass is low almost buried in the mix. Recording levels rise up and down during first part of Safe European Home as the taper wrestles with the notoriously loud Clash PA volume.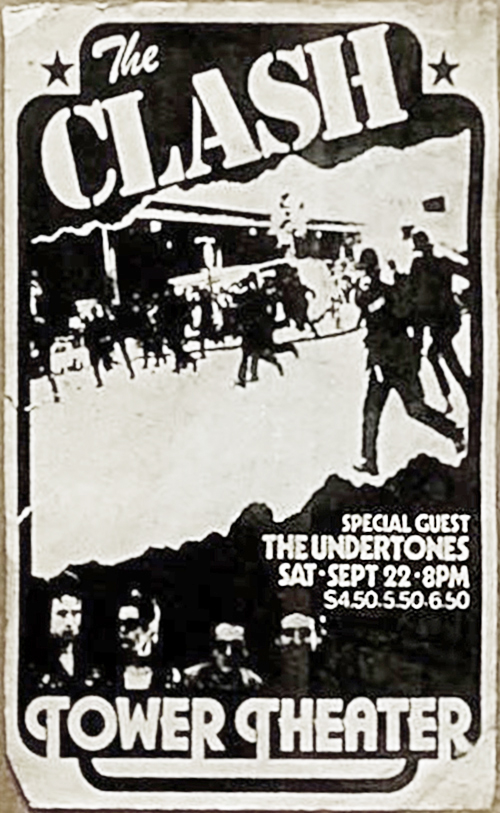 Stephen Gambino <sjgambino at verizon.net>

Walnut St Theatre....I was there. The Undertones did not open and the show was not at the Tower Theatre.

I don't know where that Tower Theatre poster on your site came from...I guess that may have been the original venue and lineup but may have been moved to the smaller theatre for lack of sales. I know 'Give Em Enough Rope' had just been released and maybe the 1st was released at the same time?

Thanks for your site, I just started cataloging my live Clash shows and will be checking in a lot...Steve

Stephen J Gambino
Fearrington Village NC

Saturday night and Little Richard singing Rip It Up is playing as The Clash hit the stage and proceed to do just that to the very enthusiastic Philadelphia audience. The audiences on a number of the gigs on this tour did not know how to react to The Clash, staying in their seats, a cause of frustration to the band. But in Philadelphia the audience roar their approval after each song, Joe tells them between songs that they're 'brilliant'. Ray Lowry (link) said the audience stood and pounded their hands together for so long that Joe had to come out after the encore to say that they were too tired from travelling to play anymore. He stood in the front and said it was a terrific show.

The performance is very strong, the band though tired responding to the audience, but the recording cannot do it justice. The enthusiasm of the audience to an explosive Safe European Home is such that Joe breaks from the norm of greeting the audience after the third song; "..are you sure you can hear it, even up there (in the balcony)".

Mick's use of the dreaded effects boxes are very much in evidence throughout, for example on London Calling taking all the piss out of the intro. As the song ends Joe says while he picks out the tune "let me tell you about all the phoney Beatle mania that's bitten the dust along with the chord changes to Pressure Drop that have escaped us."

On English Civil War (there's an edit before the start) the audience clap along to Mick's strumming on the acoustic and Joe shouts "speed up" midway and the tempo speeds up. This 'folk' rendition of the song is a highlight of the concert as it was of the tour as a whole.

Before Stay Free (Mickey Gallagher plays unannounced) Joe addresses the audience memorably, "Hang on Topper, shut up a minute. You lot down here are brilliant, you really are brilliant, you understand that the more you give a group the more the group can give back.[crowd roar approval] We all wanna get off here you know not just you and me but him and him and him,[pointing at the band] we all wanna get off, so I'd just like to talk to you people up there in the balcony, you tell me if you think it stinks or what, shout boo if you don't like it, [a solitary boo!], just remember you sit there taking away my soul and I'll get you later!" Mick is presumably playing the old hollow electric guitar as at the Palladium the night before on Stay Free as you can hardly hear it.

Clampdown is dedicated "to all you eggheads" in the balcony. Following encouragement from Joe the crowd scream with him before Police & Thieves come crashing in, and at its end they give their longest roar of approval before the always-superb Capital Radio shreds them to pieces.

It's the usual charge then through to the 3 song encore which left the audience screaming for more. By the evidence of Philadelphia many Americans were indeed connecting to The Clash. As Johnny Green has said this was the tour when it felt like The Clash were really starting to take off in the USA.



courtesy of Jeff Rusnak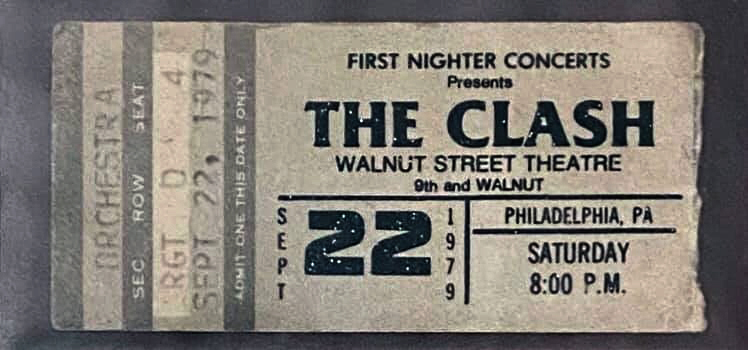 Did you go? What do you remember?
Info, articles, reviews, comments or photos welcome.
Please email blackmarketclash

Brenda Siegelman
first show : Phila. Walnut St. Theatre , Sept . 1979. Philadelphia, then I went on to the Meriweather Post Pavilion in Maryland, Oct. 1979. Then on to Texas (Dallas , Austin & Lubbock) Oct 79, to California (LA & SF), then Portland, Seattle, Vancouver (Oct 79) and the Pacific NW. The whole Take the 5th tour.
I joined the 16 tons tour in Hastings Jan. 1980, and that was about a year , UK , US & Europe .. Bonds in 1981 , then the studio months. I left them in May 1982 - but went to Asbury Park NJ, summer 82 Philly ice rink & the NYC Pier. I went to one Clash II show.

The Walnut Street Theatre is the oldest theatre in America opening in 1809 and still very much in business today. (see pics). The band would have had a kick about playing there as no doubt they were told that they would be performing on a stage that a host of famous actors had graced including Edward G Robinson, Marlon Brando, the Marx Brothers and even Houdini.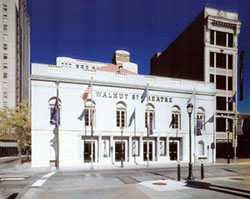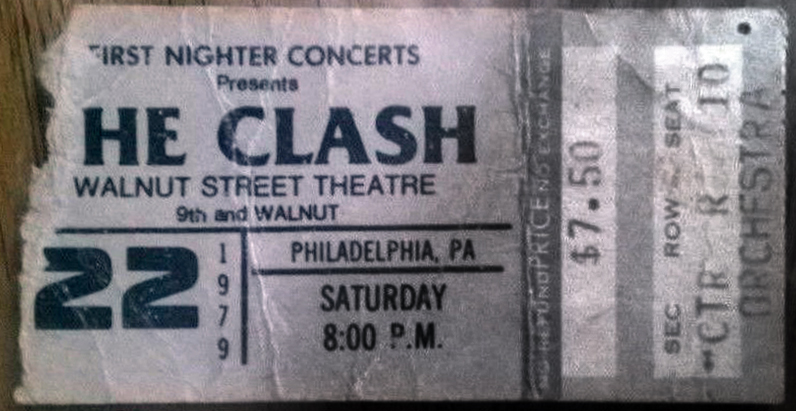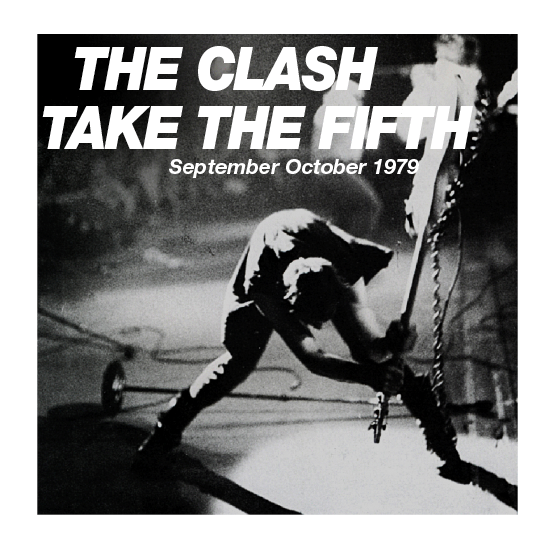 1
2
3
4
5
6
7
8
9
10
11
12
13
14
15
16
17
18
19
20

Safe European Home
I'm So Bored with the USA
Complete Control
London Calling
White Man In Ham Palais
Koka Kola
I Fought the Law
Jail Guitar Doors
The Guns Of Brixton
English Civil War
Clash City Rockers
Stay Free
Clampdown
Police and Thieves
Capital Radio
Janie Jones
Garageland
Armagideon Time
Career Opportunities
White Riot

There are several sights that provide setlists but most mirror www.blackmarketclash.co.uk. They are worth checking.
from Setlist FM (cannot be relied on)
from Songkick (cannot be relied on)
... both have lists of people who say they went
& from the newer Concert Database
Also useful: Ultimate Music datbase, All Music, Clash books at DISCOGS

If you know of any articles or references for this particular gig, anything that is missing, please do let us know.
Clash Collision
Philadelphia Daily News - Fri Sep 21,1979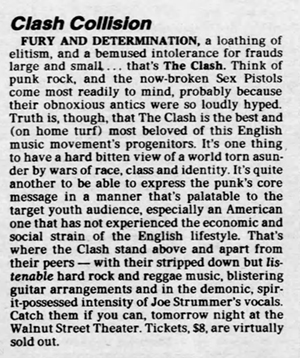 A collection of articles, interviews, reviews, posters, tour dates from the Clash's Take the Fifth US Tour covering the period of the Pearl Harbour Tour.


XXX

XXX



If you know any please let us know
Search all of facebook
Search all of Twitter
Search for a local library
Search auction site
Search flickr
Search Instagram
Search the internet

Any further info, articles, reviews, comments or photos welcome.
Submit an article here
We are looking for scans - articles - tickets - posters - flyers - handbills - memorabilia - photos - comments / any information - you might have.

Please like and post on our Facebook page or alternatively email blackmarketclash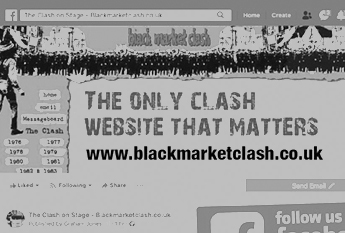 You can also follow us on Twitter
We also have a Clash Twitter list of other notable Clash Twitter accounts here


Blackmarketclash Links
Extensive links page can be found here with links to web, twitter, Facebook, traders etc..

If Music Could Talk
The best Clash messageboard and which also has links to downloads on its megalists
www.Blackmarketclash.co.uk
Go here for uploads and downloads. It's not a massive space so its on an as and when basis.

Contact your local library here and see if they can help.
If you are searching for articles in the USA - DPLA Find the local US library link here


WorldCat? - find your local library Link
British Newspaper Archive - United Kingdom Link (£££ / trial period)
Newspaper ARCHIVE - USA+ Link ($$$ / trial period)
Historical Newspapers - USA & beyond $$$ Link ($$$ / trial period)
Elephind.com - international Link (free)
New York Times - USA Link ($$$)
Gallica - France - Not very helpful Link (free)
Explore the British Library Link (free to UK users - ask if you find something)
Trove - Australia National Library Link (free)



The Official Clash
Search @theclash & enter search in search box. Place, venue, etc



Clash City Collectors - excellent
Facebook Page - for Clash Collectors to share unusual & interesting items like..Vinyl. Badges, Posters, etc anything by the Clash. Search Clash City Collectors & enter search in search box. Place, venue, etc



Clash on Parole - excellent
Facebook page - The only page that matters
Search Clash on Parole & enter search in the search box. Place, venue, etc



Clash City Snappers
Anything to do with The Clash. Photos inspired by lyrics, song titles, music, artwork, members, attitude, rhetoric,haunts,locations etc, of the greatest and coolest rock 'n' roll band ever.Tributes to Joe especially wanted. Pictures of graffitti, murals, music collections, memorabilia all welcome. No limit to postings. Don't wait to be invited, just join and upload.
Search Flickr / Clash City Snappers
Search Flickr / 'The Clash'
Search Flickr / 'The Clash' ticket



I saw The Clash at Bonds - excellent
Facebook page - The Clash played a series of 17 concerts at Bond's Casino in New York City in May and June of 1981 in support of their album Sandinista!. Due to their wide publicity, the concerts became an important moment in the history of the Clash. Search I Saw The Clash at Bonds & enter search in red box. Place, venue, etc



Loving the Clash
Facebook page - The only Clash page that is totally dedicated to the last gang in town. Search Loving The Clash & enter search in the search box. Place, venue, etc



Blackmarketclash.co.uk
Facebook page - Our very own Facebook page. Search Blackmarketclash.co.uk & enter search in red box. Place, venue, etc


Search all of Twitter
Search Enter as below - Twitter All of these words eg Bonds and in this exact phrase, enter 'The Clash'



www.theclash.com/
Images on the offical Clash site. http://www.theclash.com/gallery



www.theclash.com/ (all images via google).
Images on the offical Clash site. site:http://www.theclash.com/